MJA InSight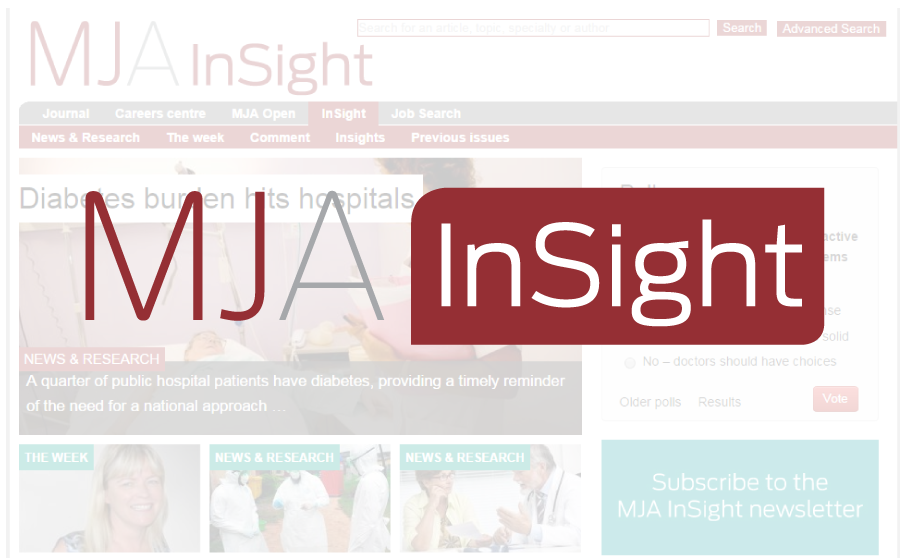 MJA InSight is Australia's highest circulating medical e-newsletter and is trusted by the medical community to deliver reliable and insightful news and analysis.
News and research
With a finger on the pulse of local and international research, InSight keeps doctors and health professionals informed on the important news, developments and breakthroughs making headlines in the medical world. Presented in a free, online and easy-read format, readers can always rely on InSight to provide high-quality and accurate information on the issues that matter most.
Expert commentary
Alongside the weekly news and features bulletin, InSight offers in-depth analysis on the key topics affecting healthcare via thought-provoking commentary pieces. This includes contributions from the Editor-in-Chief and Deputy Medical Editors of the MJA, leading medical researchers and healthcare experts, along with blog posts from health journalists.
Discussion and feedback
In each edition, InSight also provides a simple interactive facility for readers to respond to the week's content by contributing their thoughts and questions via the "comments" section below each article.
Advertising
With the highest open rate of any general medicine newsletter, InSight reaches a large and diverse audience. To find out more about advertising with InSight, visit AMPCo's advertising services page.
OR
Subscribe to MJA InSight eNewsletter
.